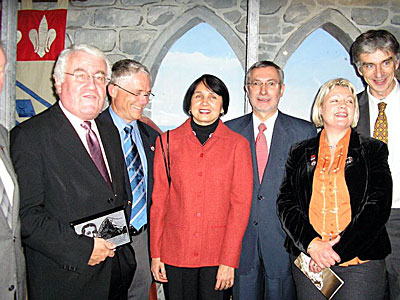 Charles Barrington Commemorative Plaque by James Hayes - inside the Bray Heritage Centre. From left to right: Minister Dick Roche, Mayor of Grindelwald Emanuel Schläppi, The Ambassador of Switzerland Beat Loeliger and his wife, Councillor Caroline Burrell, and Cathaoirleach Bray Town Council Ciaran O'Brien. Minister Dick Roche is holding a miniature version of the plaque, produced in aluminium.
Bray, Co. Wicklow & Grindelwald, Switzerland, 2008
400mm x 300mm, etched 3mm thick bronze plate
Click on the thumbnail images below to see larger images.